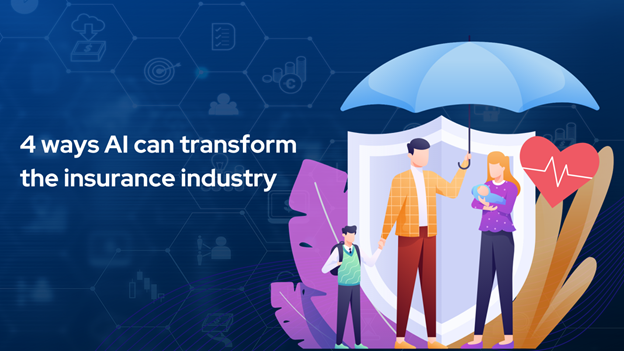 4 ways AI can transform the insurance industry
With declining mobile app downloads, leveraging AI as a part of their new digital strategy to provide channel agnostic digital engagement to customers is the way moving forward for insurance companies.
Engage with your customers on their preferred platforms:
Ubiquitous presence - leverage existing communication channels and avoid dependency

Frictionless self-service – AI based automated customer service with remote on-boarding for new and existing customers.

Hyper-personalization – Persona based recommendations and intelligent context specific customer engagement across all digital channels
Let's look at some of the top use cases of AI for the insurance industry:
Personalized recommendations for policyholders
Dynamic persona based recommendations with targeted cross sell & upsell at every customer touch point.
Proactively send personalized plans/quotes to prospects on the channel of their choice.
Enable clickstream based dynamic engagement for new customers.
New plan recommendations for policyholders depending on their financial journey stage.
Seamless AI powered Onboarding
Self-service eKYC with document upload to fast track the onboarding process.
Frictionless customer origination with document verification and liveness detection with face & speech verification.
Video KYC, if required with agent in the loop and assisted live chat.
Embedded customer service
Automated customer support for claims, inquires, and information discovery.
Enable Human handoff with agent assist across all digital channels for true human +AI service experience.
Secure in built transactions with beneficiary management for premium payments.
AI based claim management
Hassle free claim reporting, FNOL & updates with image & location capture.
Efficient claim processing with minimum manual intervention.
Instant coverage assistance with partner ecosystem integration.
The way forward.
Fast and simple customer interaction is the key to customer retention and creating customer influx for insurance companies. BankBuddy's cognitive insurance CX solution can help you get closer to your customers with a Human+AI, 'friend-in-need' intuitive experience across channels, languages & policy life cycles.

Deploy Insurance CX solutions for webchat, mobile apps, messaging apps like Facebook messenger, WhatsApp, telegram, viber, zalo , voice platforms like Google Assistant, Amazon Alexa and more.

Read more about how to go live with end to end WhatsApp solution for your insurance customers https://bankbuddy.ai/Insurance-WhatsApp-Chatbots