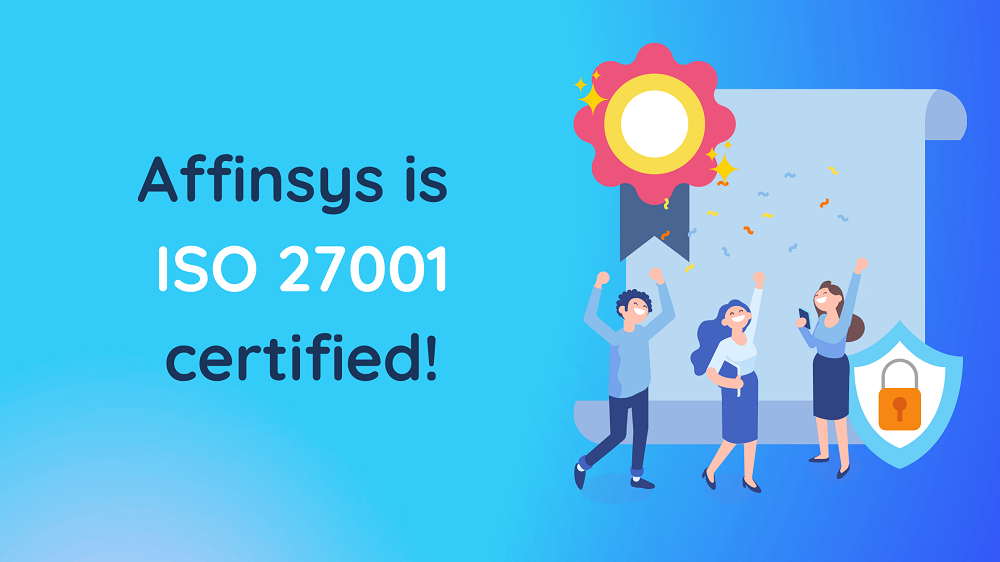 International Organization for Standardization (ISO) Certification
Affinsys is ISO 27001 certified!
Team Affinsys is proud to announce that we have been accredited with ISO/IEC 27001:2013 certification. It is the latest milestone in our Information security roadmap, making us one of the select few AI platforms meeting the internationally recognized security standards set by ISO.

The rigorous audit and certification process was conducted by the ISO Certification Body DNV GL Business Assurance, the global leader in quality assurance, and risk management. Driven by the purpose of safeguarding life, property, and the environment, DNV GL enables organizations to advance the safety and sustainability of their business.

The ISO 27001 certification is a testament to the fact that our complete IT & Information Security Management system has been designed to meet global standards, from design & development to the deployment and implementation process.
What is ISO 27001?
The International Organization for Standardization (ISO), is an independent, international organization that sets the global standards for security and safety.

ISO 27001 certification is a part of the ISO 27000 family of standards, which are all related to information security. It requires a company to have a world-class information security management system, which means having a documented process for managing sensitive company information, business processes, and IT systems.
What does ISO 27001 certification involve?
The ISO/IEC 27001:2013 certification demonstrates that Affinsys and its products - BankBuddy, InsureBuddy, and TelcoBuddy have world-class information security standards.

The certification requires organizations to implement controls to manage and monitor security services in a number of areas including:
Organization of Information Security
Human Resource Security
Communications Security
Security acquisition, development, and maintenance
Risk analysis and mitigation
Data asset classification and handling
Compliance
Access control
Physical security
Information Security Incident Management
Information security aspects of business continuity management
Systems development
The ISO 27001 certification is the result of an enormous effort by our team at Affinsys. We are constantly challenging ourselves to improve our service and offer the highest standards of data security that exceed the needs and expectations of our clients and stakeholders while ensuring compliance regulations are met.

To view our ISO certificate you can simply click the link below.

ISO 27001 certification

Read more about our team https://bankbuddy.ai/about-us