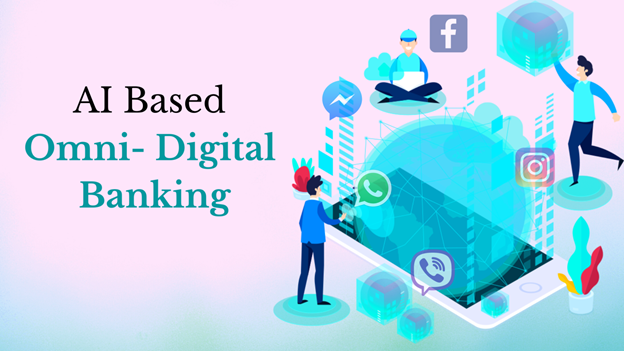 It's time for OMNI-DIGITAL BANKING
Though it sounds similar, Omni digital banking is not about offering transactions on multiple digital channels (that's legacy Omnichannel/Multichannel).
So, what exactly is Omni digital ?
Omni digital banking is about bringing "Digital business models" to life across all possible customer journeys & touchpoints, by sprinkling that dash of intelligence in every moment of truth, by shifting the focus from products and transactions to what the customers value & when, where, how they want it.
Let's delve deeper to see how a "Truly" Omni digital customer journey helps enhance customer engagement resulting in scalable revenue expansion for Banks.
Nick is a 28-year-old digital native, who like most people his age prefers communication via chat. He is active on several social media platforms and is comfortable sharing his information online for better quality services. He depends on his smartphone for completing online transactions and is interested in receiving personalized deals and offers.

He recently visited the bank's website, browsed through different products, and spent most of his time in the personal loans section, and did a loan simulation for a USD 2000 loan. Before exiting the website, Nick registered with the bank to receive alerts on upcoming deals and offers on his mobile.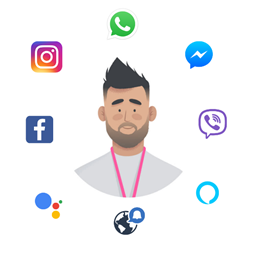 Based on his location, time of day, device, clickstream data, ISP/Network information, loan simulation & registration data, the bank AI system collects the following information about Nick's persona:
Nick is interested in taking a personal loan.
He is located near an upscale tech park and he works for an MNC that the bank has partnered with.
He reached the bank's website via a search engine PPC ad.
Nick spent 3.8 minutes looking at personal loan pages and looked at offers related to electronic products.
He used a loan calculator to see the payback amount for a loan of 6 months
He registered for offers on electronic goods and specified that his preferred mode of communication is WhatsApp.
With the help of the data, the bank was able to convert a completely anonymous visitor into a hot prospect, and collect enough information about his persona to help personalize the financial journey.
"Our research shows that WhatsApp use has risen by 200%+ since March 2020 — the highest growth in any channel with the least amount of Digital Banking Presence"
The bank registers Nick on WhatsApp & sends a welcome message. The next day Nick interacts with the bank on Whatsapp Chatbot. Here's how AI helped personalize the interaction: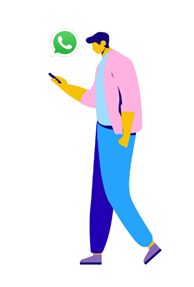 Whatsapp Bot: "Welcome back Nick! I understand that you were looking at our personal loans yesterday. Would you like to continue the conversation?" - Automatically recognizes the customer based on the registered number and initiates a human-like conversation based on the previous interaction for seamless continuation of the customer journey.

Nick: "Sure, tell me about the Prepayment penalty." – The customer is able to directly ask his query and easily find the information he is looking for without having to browse through multiple menu options.
Whatsapp Bot: "The Prepayment penalty for personal loans is 2%. As an employee of BankBuddy, you are eligible for instant approval of personal loans up to USD 2000 with no processing fees. Would you like to go ahead and apply?" – With the information gathered during the initial interaction about his employer, AI offers the customer a personalized offer.

Nick: "Yes, what is the interest rate?"

Whatsapp Bot: "For LC Limited employees, the discounted APR is 12%. Can I connect you to the agent to process the loan right away, I promise this would not take more than 15 minutes?" – Instant query resolution

Nick : "Yes" - Initiates priority routing based on the nature of the product.

SEAMLESS AGENT HANDOFF: The customer is connected to an agent on the same channel i.e. WhatsApp, to complete onboarding and answer all questions that the customer might have regarding the particular product.
Agent: "Hi Nick, this is John, your live agent. Thanks for your interest in a personal loan, as an employee of LC Limited you are preapproved for an instant personal loan, let me help you get the loan processed quickly. What is the amount that you are looking for?"

Nick: "USD 2000"

Agent: "Sure, please click on this link to complete the onboarding, keep your Identity proof, and Address proof handy to complete the process."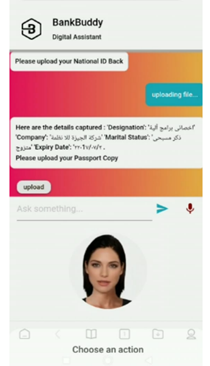 ON-BOARDING PROCESS: Document upload, data extraction, Face verification, and information verification with the customer's employer who is partnered with the bank. The customer is then seamlessly handed back to the bot.

Whatsapp Bot: "Your personal loan is approved. The amount is credited to your account no. XXXX. is there anything else I can help you with?" – Completes process in under 15 minutes and initiates automated disbursement

Nick: "Thanks." - Nick is a happy customer, gets the amount credited in his account in no time.
FACEBOOK MESSENGER is Nick's next choice to get in touch with the Bank after 2 months when he decides to pre-pay his loan. With the help of AI, the bank was able to make the cross channel experience completely frictionless. Here's how the interaction went: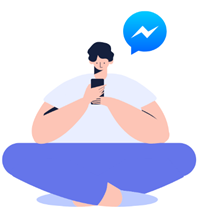 Messenger Bot: "Hi Nick! What can I help you with today?" – Instantly recognizes the customer irrespective of the change in channel

Nick: "Close Loan" - AI understands that the customer is in need of short term credit and adds this on to the customer persona.

Messenger Bot: "Sure, let me help you with that. The outstanding amount on your personal loan is USD 1600, please choose the mode of payment?" - Seamless continuation of the customer journey, without repeating information.
Nick: Selects payment option – Secure inbuilt transactions for quick transactions and payments.

Messenger Bot: "Your transaction has been successfully completed. We have a special offer just for you on our Titanium Credit card. Titanium card comes with special offers on electronic gadgets, enroll today to get up to 30% off on all your purchases at Best Buy." – Closes the customer journey loop and provides behavior-based cross-sell recommendation by leveraging dynamic attributes of the customer persona including spending patterns(to purchase electronic goods), financial journey and short term credit needs.

Nick: "Yes" –Nick confirms his interest in getting the new credit card.

Messenger Bot: "Great, Your personalized card is on the way, you will receive it within 24 hours". – The customer is kept onboard even after he completes his initial journey with an intelligent persona-based recommendation at the right time.
The way forward…
Most banks and financial institutions have already adopted the Omnichannel approach to make their mobile & internet banking services more accessible. However, with the changing customer behavior and an increase in the number of exclusively digital customers, it is time banks made the shift from Omni channel to Omni Digital banking.

Understand your customers, personalize financial journeys, and enable frictionless cross-channel "Intelligent" interactions with AI-based Omni digital banking. Move from rigid transactions to customer engagement and increase conversions, cross-sell & upsell with persona-based recommendations at every touchpoint.

Read more about how Composite AI is used to enhance banking experience https://bankbuddy.ai/definitive-guide-to-composite-AI-in-banking