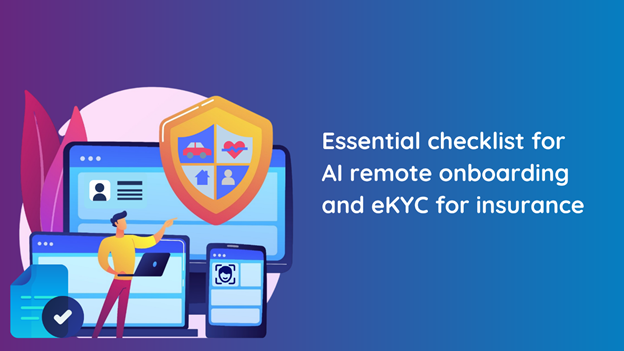 Essential checklist for AI remote onboarding and eKYC for insurance
Digital insurance onboarding process is critical to getting new customers up and running with their coverage in a jiffy.

"A recent report by Mckinsey indicates that more than 33% of insurance consumers across all age and income brackets prefer to conduct the entire quote-to buy-process digitally."

Due to ever-changing compliance requirements, eKYC for insurance still remains a challenge for carriers.

How can insurance providers overcome this hurdle and onboard new customers with eKYC?

The answer is a flexible customer acquisition process powered by Comprehensive AI.

AI has made remote customer onboarding and eKYC a reality for insurers, enabling them to deliver an enhanced CX with a paperless policy purchase journey across all digital channels.
Here's the quintessential AI-based eKYC & insurance onboarding process checklist to get your customers started with their coverage remotely.
Omni channel Customer registration: Enroll customers across channels to securely collect primary data & policy specific information.

Document upload & data extraction: Leverage customizable eKYC and document collection flow to enable users to upload relevant documents as per the policy requirements. For e.g. - Vehicle registration certificate for motor insurance, or proof of age document for health insurance.

Capture & analyze information from IDs using computer vision and OCR. Do away with lengthy applications and auto-fill forms in the backend for validation checks and

Data validation & verification: Verify the customer information with regulatory sources through secure API's to ensure compliance. Perform validations like geolocation, face matching of live selfies with ID images, document validation, AML, and other regulatory checks depending on specific compliance requirements.

Liveness detection: Conform to regulatory requirements and ensure liveness with various parameters. Use mechanisms including voice fingerprinting via ASR, real-time face-matching with 68 landmark detection on the face with live video recording.

Video eKYC with agent handoff: Redirect customers to a live agent for Video KYC, if required. Ask customers to verify the ID as a final level authentication through video chat. Provide a detailed agent assist dashboard for agent support. Maintain an audit trail of all the actions on the bot as well as the agent during video eKYC.

AI-based remote onboarding and eKYC for insurance offers flexibility to carriers. They can change data collection flow, validations, and integration characteristics at warp speed. It helps insurance providers enhance their CX, and as a result boost customer acquisition rate, while cutting down cost to serve.

Backed with advanced AI and machine vision, InsureBuddy's Omnichannel multilingual customer onboarding solution optimized to complete eKYC for insurance in under 5 minutes. Contact us to enable remote customer onboarding and eKYC in 3 weeks!