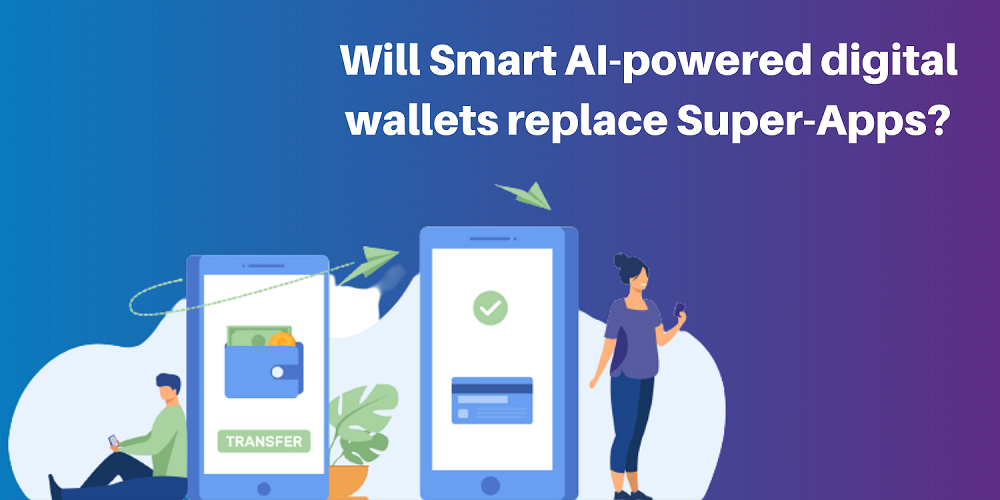 Will Smart AI-powered digital wallets replace Super-Apps?
The answer is a resounding yes… let's explore

Super Apps are built on the premise of cross-sell and upsell potential to existing customers of a daily use app example: a taxi app. So, the super apps originally started as a utility function and added a digital wallet to fund the purchase of ecosystem products and services, effectively bridging the gap between banks and merchants. But with limited scope due to regulation and low/no focus on finance offerings, these super app wallets remained just payment processing engines for in-app transactions.

This is where smart digital wallets from banks are challenging the Super apps, with embedded finance, full compliance, deep payment processing capabilities, upsell and cross-sell financial services, and ecosystem partner products.

A research report by CB Insights has posited that the development of 'super apps' from single-function digital wallets is fast gaining ground, with the trend expected to continue, especially in Asia, Europe, and the United States. The CB Insights Industry Analyst Consensus forecasts that this trend is expected to grow the digital wallets market from $1 trillion to $7 trillion by 2027.
What is a Smart Digital Wallet?
A smart digital wallet is an AI-powered financial services product that enables secure, frictionless, intuitive delivery of financial services and bridges the value chain for a seamless experience for all participants.

Here are the key things that make a digital wallet "smart."
Smart Customer Experience
1. Easy onboarding with Multi-Level KYC - Smart digital wallet has sub-3 mins AI-based onboarding using existing digital identifiers or channels like National ID check, Penny deposit, Penny drop/request to pay, Card authentication, etc. Smart wallet onboarding in conjunction with one click KYC upgrade marries the convenience of a super app with a bank's compliance. The KYC levels are linked to transaction type and aggregate limits.

2. Pay Anyone - P2P, phone number, account, card, wallet, subscription/VRP, remittance, government, billers, Merchant- QR pay, Bin payment, Request to pay, Cardless ATM withdrawal.

3. Interoperability across payment rails - Smart digital wallet has a payment marketplace to give customers the power to choose the payment rails for the transactions. In addition, it has tokenized credit/debit cards, stored value wallets, pay by bank account, integration with other wallets, loyalty reward redemption, cryptocurrencies, and more.
Frictionless Merchant Experience:
1. Digital Merchant onboarding & management
Self-service onboarding, Inline KYB and compliance check, choice of payment providers, reports, reconciliation, and dispute management.
QR code management - Self-service static, dynamic, and embedded QR codes.
2. Merchant ecosystem - closed, semi-closed, open wallet


Revenue expansion for Banks
1. Persona-based AI recommendations - cross-sell and upsell across ecosystems based on behaviour, demographics, transaction patterns, and more.

2. Upgradeability - move to open a full account, instant loan, instant insurance, digital remittance, savings, investments.

The EY's global banking outlook estimates for 2021 that non-banking financial services are already generating more than $200 billion of global financial services revenues. Therefore, banks should consider new business models based on banking as a service within larger ecosystems. This is where fintech is helping banks with technology and digital capability.

Looking to launch your smart digital wallet in 2022?
Talk to us to see how BankBuddy digital wallet enables large global financial services firms to innovate with pre-built super wallets.