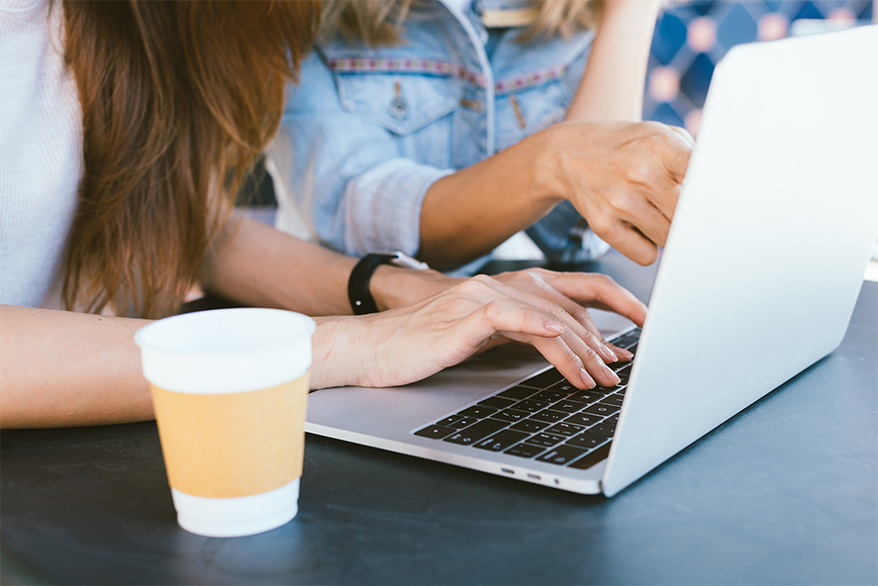 5 things to do to enhance your WhatsApp Banking Experience
At the core, digital transformation is all about creating new enhanced customer- centric journeys & experiences with disruptive technological advancements across various channels. Today's digital banking priorities are linked to redefining how people interact, engage and transact.

Imagine being able to offer frictionless transactions to your customers via WhatsApp banking chatbot and save almost 7 minutes of their time on every interaction/session as compared to the mobile banking and internet banking.

Imagine extending your extend banking service to customers (including me) who don't want to download another Mobile App via WhatsApp banking chatbot.

Imagine answering queries in any language, extend functionality base, provide all sort of rates, complaints, status…..et al over WhatsApp banking chatbot

Reality – you can do all this and more with BankBuddy WhatsApp banking chatbot.

BankBuddy WhatsApp banking chatbot opens the door for better customer engagement, increased trust and long-lasting customer relationships.

Alex got connected with his college friends via WhatsApp group. The friends started planning a meet-up and decided on the venue. Alex had to transfer his part of contribution to one of them, he connects to his bank on WhatsApp chatbot and within few seconds the funds were transferred. WhatsApp banking chatbot allowed him to complete his transaction almost instantaneously while chatting with his friends.

But, there's more, a poorly designed whatsapp banking chatbot can quickly lead to backlash and channel abandonment. Here are 5 whatsapp banking experience enhancers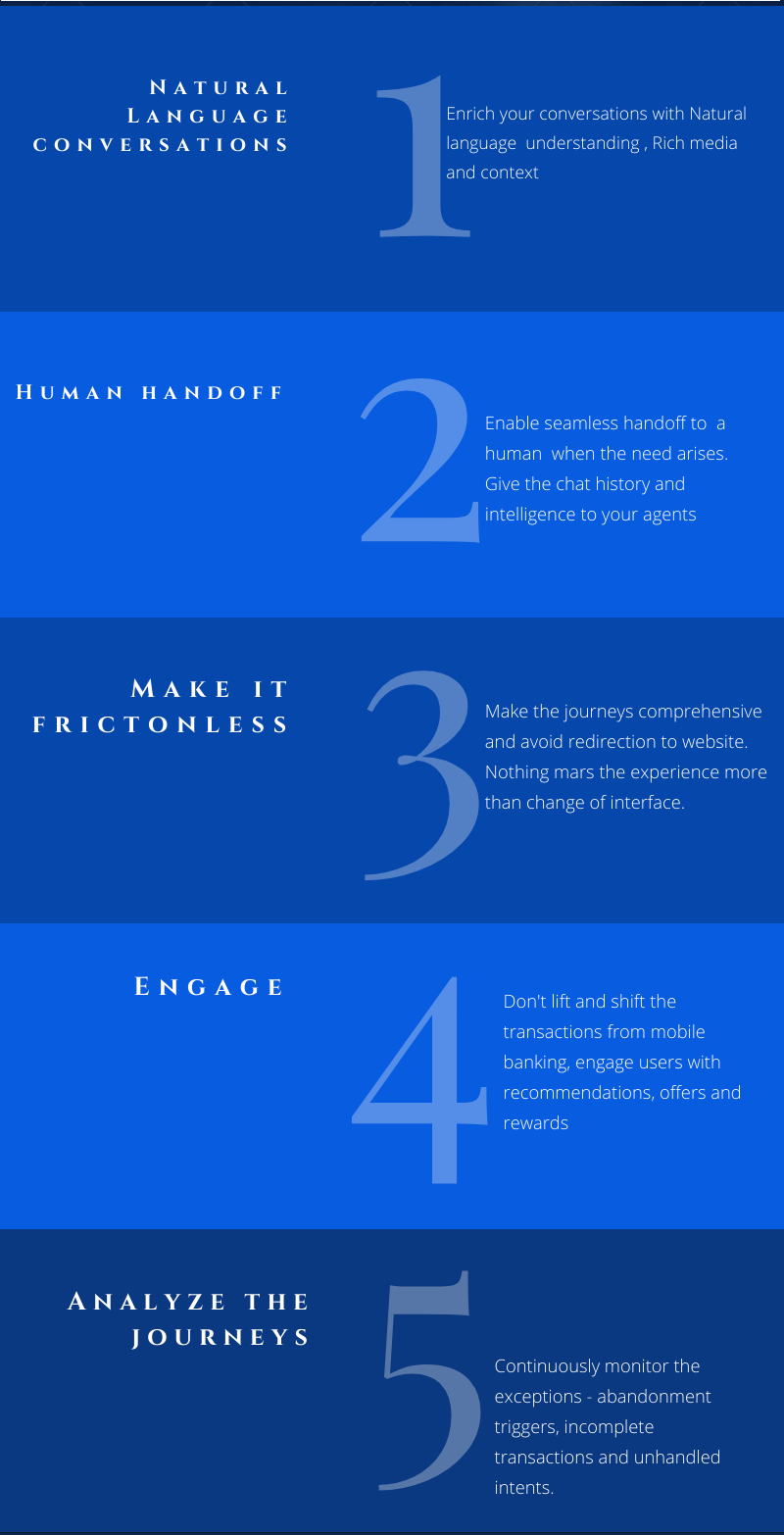 BANKBUDDY WHATSAPP CHATBOT
Conversational Banking is all about delivering convenience and personalisation. As per the recent studies, customers value speed and efficiency as most important attributes to moulding positive customer experience. BankBuddy WhatsApp banking chatbot is designed to offer frictionless experiences across :
Seamless WhatsApp Banking
WhatsApp chatbot for Funds Transfer – Internal/Self/External
WhatsApp chatbot for Transactions - Card/Loan/Bills etc.
WhatsApp chatbot for Remittance
WhatsApp chatbot for Customer Service – Statement, Summary, Service Requests
WhatsApp chatbot for Loans – EMI due, pre=payment
Personalised Recommendations

Increase your upsell & cross sell by providing personalised WhatsApp notifications and recommendations based on customers' profile & behaviour.
Location /Segment based offers
Cross sell, Up-sell , Retention offers
Partner offers - Co-branding with airlines, hotels , food chains etc.
Automated FAQ/ WhatsApp chatbot for automated Query resolution

Reduce the overall customer service cost and enhance the customer experience via context-specific query resolution.
Forex - Buy, Sell
Interest rate – Loans, Deposits , Accounts
Charges & Fees
Location – ATM, Branch; Working hrs
Two-factor user authentication

Two level authentication to ensure secure transactions

Customer and context-centred interactions are the "new normal" in digital operating models. That means, the financial institutes have to change the way they interact with their customer based on the context of exchange in order to offer seamless omnichannel experience, through a smart balance of human and machines.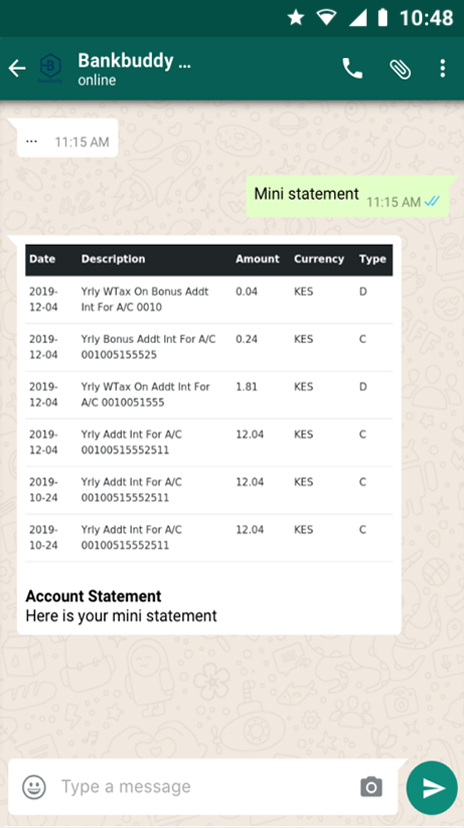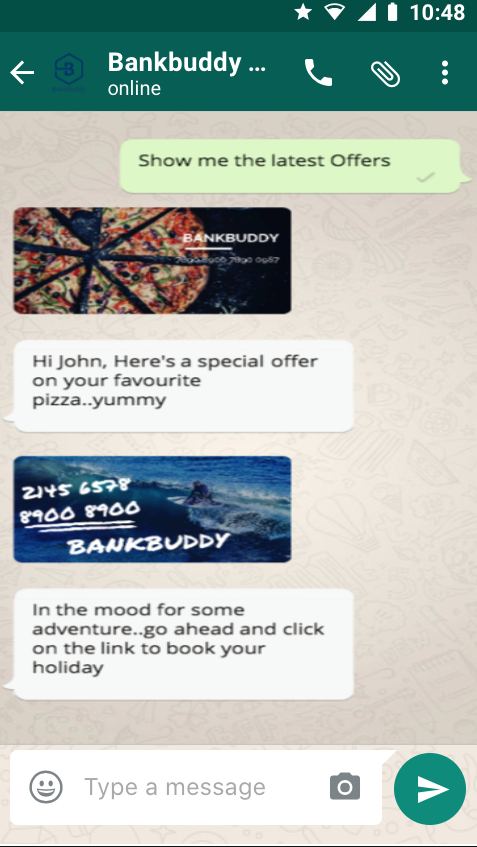 Read more 'the most secure' WhatsApp banking platform https://bankbuddy.ai/secure-whatsapp-banking