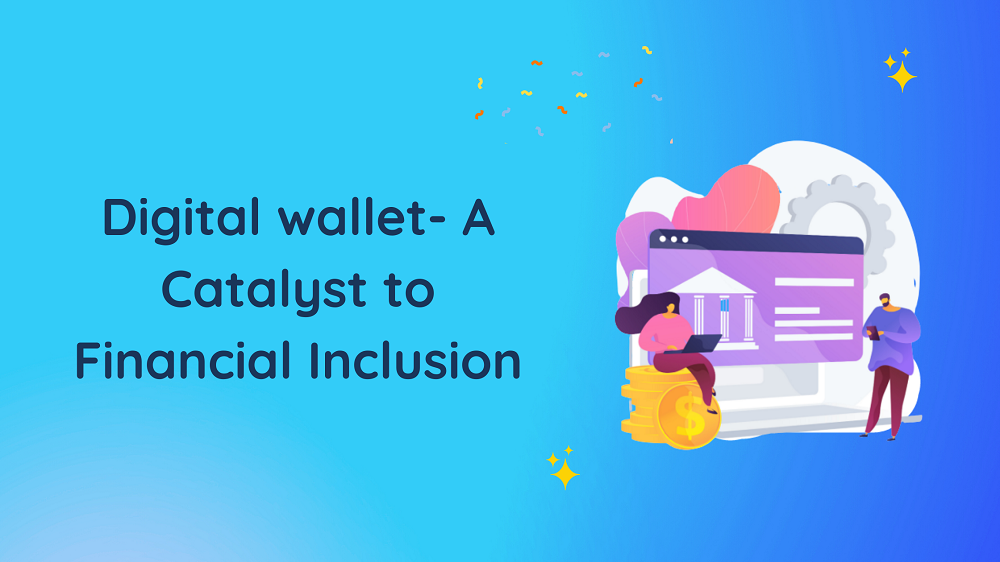 Digital Wallet + Artificial Intelligence - A Catalyst To Financial Inclusion
Digital wallets have revolutionized financial services by allowing users to make transactions in an easy, effortless manner. The democratization of payments has catalyzed financial inclusion by bringing unbanked populations into the formal banking system, which has enabled them to access a range of financial services. The shift from cash to digital payments offers convenience and saves time and cost while reducing theft risk.

Digital wallet evolution into multiple commerce-related applications presents an opportunity to tap into a new customer segment, and aid financial inclusion in the process.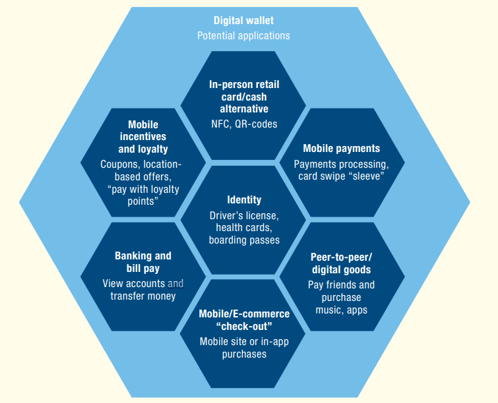 Image Source

Digital wallets can help approximately 2 billion individuals across the globe living on less than $2 get access to cost-effective financial services. In addition, digital wallet companies' objective to create a cashless society has found great synergies with governments across the globe for an inclusive digitized economy. The United Nations Sustainable Development Group (UNSDG) recommends making digital financial inclusion a priority to achieve 2030 sustainable goals quickly. Inclusive financial services refer to multiple fintech platforms including AI digital wallets. The wallets can make it easier for the poor to save and pay for basic services such as water and sanitation, ultimately saving lives, and helping advance the United Nations (UN) goal of sustainable living and development.

Digital payments enable governments to bring the unbanked and informal sector of the economy to a formal system, facilitate access to credit lines, and increase economic growth. According to McKinsey, digital payments contribute 66% of the incremental Gross Domestic Product(GDP) resulting from digital finance.
How do digital wallets act as a catalyst for financial inclusion?
Mobile internet use has been steadily increasing, with the number of unique mobile internet users at 4.32 billion in 2021. The usage has grown year on year in LMICs (Low-to-Middle-Income Country), accounting for around 75% of the connected population.
An extensive mobile internet coverage makes it feasible for digital wallet companies to bring unbanked and underserved people in LMICs or developing economies into the formal financial ecosystem through low-cost omni-digital means. The popular messaging app WhatsApp offers a frictionless payment experience to users because of its known user interface and its ubiquity as a messaging platform eliminating the need to download another app.

The innovation by providers such as Quick Response (QR) code plays a critical role in encouraging the use of digital wallets. According to Juniper Research, QR payments will account for 40% of all digital wallet transactions globally by 2025. Furthermore, with the evolution of features such as card acceptance via NFC (Near Field Communication), smartphones will further improve the acceptance of digital wallets, making them ubiquitous, and a great enabler for financial inclusion.

The adoption of digital wallets can be linked to financial inclusion gains through the following three mechanisms.
The increased popularity of digital wallets will provide an incentive to open a transaction account, an underlying payment instrument, to enable users to leverage the full functionality of the wallet.
A digital wallet provides a uniform user experience irrespective of underlying payment instruments, which may encourage the frequent use of transaction amounts.
Digital wallets combined with contactless technologies like QR pay, multilingual chat-based interactions, voice interactions, and frictionless authentication will broaden the acceptance of digital payments in underserved markets such as rural areas.
The future of Digital Wallets
Digital wallets usage has evolved from p2p payment, and the scope will expand beyond online payments, which will turn it into a super wallet or super apps. The wallets are aiming to become go-to money management apps, and digital repositories from health tracking and medical records to financial functions such as credit and debit cards, investing, insurance and budgeting.

Digital wallets have revolutionized the financial services industry by offering convenience and speed to do financial transactions over channels like USSD. As a result, digital wallets have gained in popularity, leading to total global unique users expected to increase to 4.4 billion and spend to exceed $10 Trillion globally by 2025.

First-generation digital wallets facilitated financial inclusion through USSD and SMS on mobile phones, specifically in emerging economies that have low banking penetration but good mobile coverage.

As digital wallets evolve into a go-to money management application, their utility will increase. As digital wallets add features to become omni digital super apps and offer services beyond wallet payments such as loans, digital banking, insurance, and others, the appeal of digital wallets for financial inclusion will increase. Paired with AI-based personalized recommendations wallets can provide powerful financial journey-based guidance and engagement to the user.

The estimated mobile payment market for banks in sub-Saharan Africa is $500 billion, with half of it in the person-to-person (P2P) payments space. Mobile payments could enable new services for a broad range of existing customers while it could bring the unbanked population into the formal banking system.

This provides a unique and exciting opportunity for banks to create a comprehensive payments and financial services ecosystem/platform with seamless participation of merchants, agents, corporates and connected partners via API's and open banking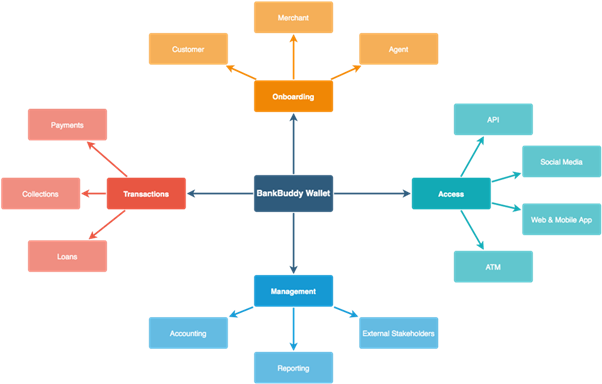 With BankBuddy Digital Wallet You can be at the forefront of the digital payment revolution with a new generation AI platform to offer a flexible, enterprise-grade wallet for both Existing-To-Bank (ETB) and New-To-Bank (NTB) customers across Web, Mobile, WhatsApp, Facebook, Twitter, USSD, Viber, Zalo and more channels.

Talk to us to see how First Capital bank leverages our WhatsApp wallet to augment their WhatsApp banking for ETB customers and enable NTB customers to easily onboard & do seamless transactions like P2P transfers, bill payments, cardless withdrawals and more, from the convenience of a known user interface.
https://www.bankbuddy.ai/launch-whatsapp-wallet-and-payments