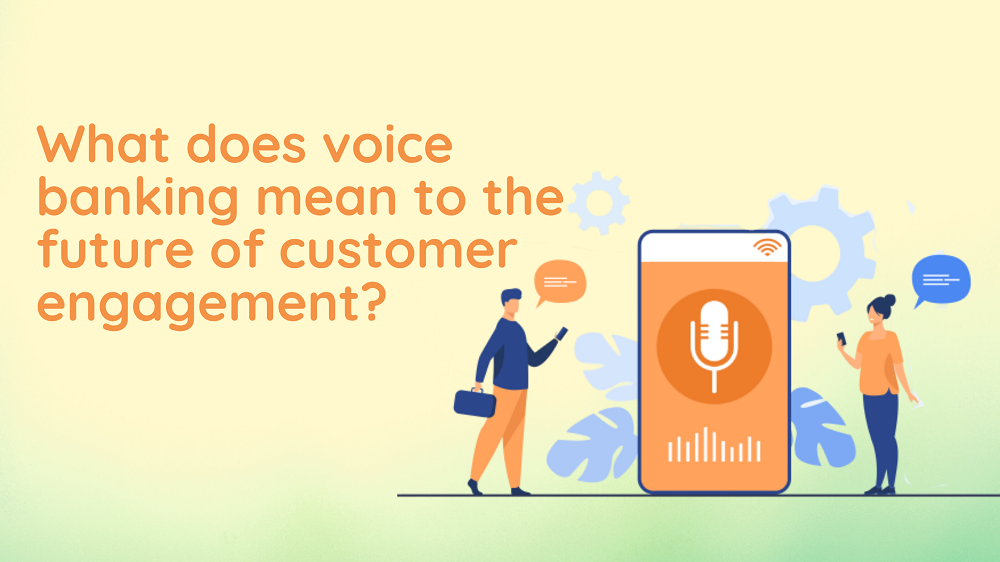 What does voice banking mean to the future of customer engagement?
Customer engagement is one of the biggest challenges facing the financial industry today. Most banking professionals agree that "optimizing the customer experience" is the most crucial element to remain successful in the highly digitized and competitive financial sector.

Today, customers are looking for convenience and accessibility which puts even more pressure on traditional financial institutions to become more agile and stay in the game while keeping up with rising customer expectations and be available anywhere anytime.

Advances in NLP and artificial intelligence are now being extended to a whole new set of Voice-based channels, enabling customers to interact with their service providers anywhere anytime. This has made voice banking a decisive element, which financial institutions can no longer ignore.
Why Voice Banking?
Consumers are already embracing voice-based technologies, with almost 50% of all online searches being done through voice. The reasons for the increasing popularity of voice search are many, including its enhanced sophistication, convenience, and ease of use.

Most tech-savvy customers who had been heavily relied on digital banking, have started showing a fondness for voice assistants like Alexa and Google Assistant that enable access to their bank's services with a simple voice command. Noticing the trend, several large banks and financial institutions have already started leveraging voice search in banking and engaging their consumers through voice-based interactions.
What do you get?
While joining the race to stay updated in the digital space is crucial for financial institutions, they should not forget the basic aim of doing so – solving customer problems.

Voice-based technologies offer convenience to customers since most of them are hard-pressed for time and want quick real-time solutions wherever they are. Calling out commands, carrying out transactions without remembering passwords, making physical visits to a branch, or answering security questions will definitely enhance the overall banking experience for the customers.

AI-powered voice banking enables banks to offer their customers the convenience of:
Frictionless and convenient voice banking with personalized voice-based interactions across all customer journeys.
Proactive customer service with contextual NLP based query resolution, automated service, and predictive analytics.
Multifactor user authentication with AI-based automated speech recognition and inbuilt voice authentication.
Expanded reach and accessibility with multilingual voice banking assistants that support seamless cross-channel interactions, and multiple languages within a single interaction.
Secure voice-based payments, transactions, and account services on all digital channels including Alexa, Google Assistant, IoT & mobile devices for frictionless voice-first banking.
The final takeaway
As per recent reports, the Voice technology Market is expected to reach $27.155 billion by 2026, at a CAGR of 16.8%.

It is important to treat voice-first technology as a way to drive higher consumer engagement, and not just as an addition to another channel. This requires a deep understanding of the customer journey, linguistics, and NLP, to make sure that their voice applications are likable, trustworthy, and empathetic to customer needs.

The benefits of voice banking are not limited to reducing costs, generating revenues, improving customer engagement. AI-powered Voice assistants can learn from every customer interaction and offer relevant advice and persona-based intelligent recommendations. They can elevate the customer experience by offering a genuine bond and making their lives easier.

Enhance CX with hyper-personalized customer interactions and strengthen your brand image and create a unique brand identity with customized voice bots & avatars. Leverage multilingual voice banking across all digital channels including Alexa, Google Assistant, IoT & mobile devices.

Read more about how Digital humans can guide the customers for a personalised banking experience https://bankbuddy.ai/Digital-humans-The-next-wave-of-digital-banking-innovation