AI for new Customer Onboarding
As virtual banking continues to gain global traction, customers' expectations of fully digital experiences have expanded to every corner of the financial services realm.

Accelerate customer acquisition with end to end process automation for a simplified and faster on-boarding experience  with complete eKYC, while meeting compliance regulations.

Create a frictionless Omnichannel onboarding experience by leveraging AI and Machine vision models optimized to complete the process in less than three minutes!

Lower new customer acquisition costs with AI based remote account opening and eKYC.

Seamless onboarding experience across languages and channels including WhatsApp, Facebook, Web and mobile etc.

Widen your customer base and expand reach in different locations without compromising on revenue or setting up branches.
eKYC
Effortlessly onboard customers with highest degree of compliance with facial recognition, speech verification, and live video chat.
Muti-factor Authentication
Multi-level authentication including OTP/Pin, face verification-selfie / photo / live video, speech verification with ASR & liveness detection.
Document Upload & verification
Data & image extraction from IDs with quick system integerations for verfications.
Live agent hand-off
Seamless human hand-off with liveness detection & assisted video chat.
Frictionless, Embedded, Personalized, Secure Banking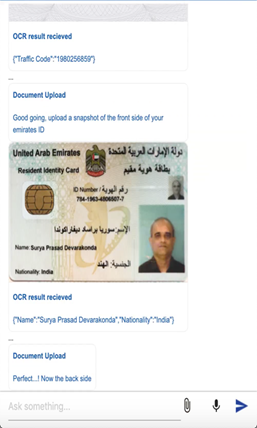 Multilingual & omnichannel
Customer registration & authentication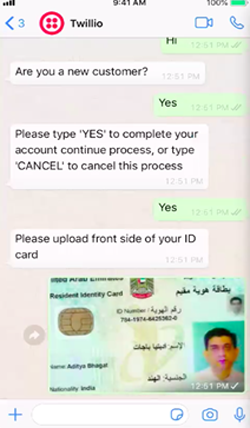 Document upload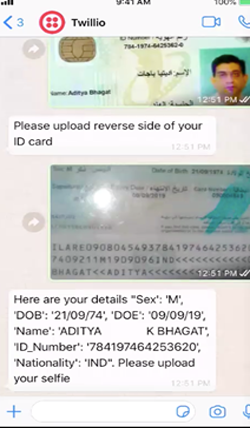 Data extraction & verification
Frictionless new customer onboarding in less than 3 minutes!
Leverage pre-built, multilingual NLP chatbot with frictionless & secure customer transactions to enhance your reach

Omni-channel & Multi-lingual
Seamlessly acquire customers across Mobile, Web, WhatsApp, Facebook and more with multi step self service process or progressive profiling.

Multi-level customer authentication
Application filling, primary data collection and Multi factor user authentication including OTP/PIN, passwords and customer credentials.

Secure Onboarding
Secure customer onboarding with customizable e-KYC process and progressive profiling for multi-level transactional limits.

Document Upload & Data Extraction
Collect required documents, and Capture & analyse information using computer vision and OCR for text and photo extraction from IDs.
Document Verification
Integrate with the internal systems, verify documents & ensure compliance.

Face & Speech verification
Match extracted images to the user using selfie or video upload and Speech verification using ASR.

Liveness Detection
Real time face-matching with live video recording and selfie upload.

Human Hand-off
Live video/audio chat with human agent in the loop.
Get in touch with us
See how BankBuddy helps you personalize customer engagement & increase cross sell, upsell & conversion