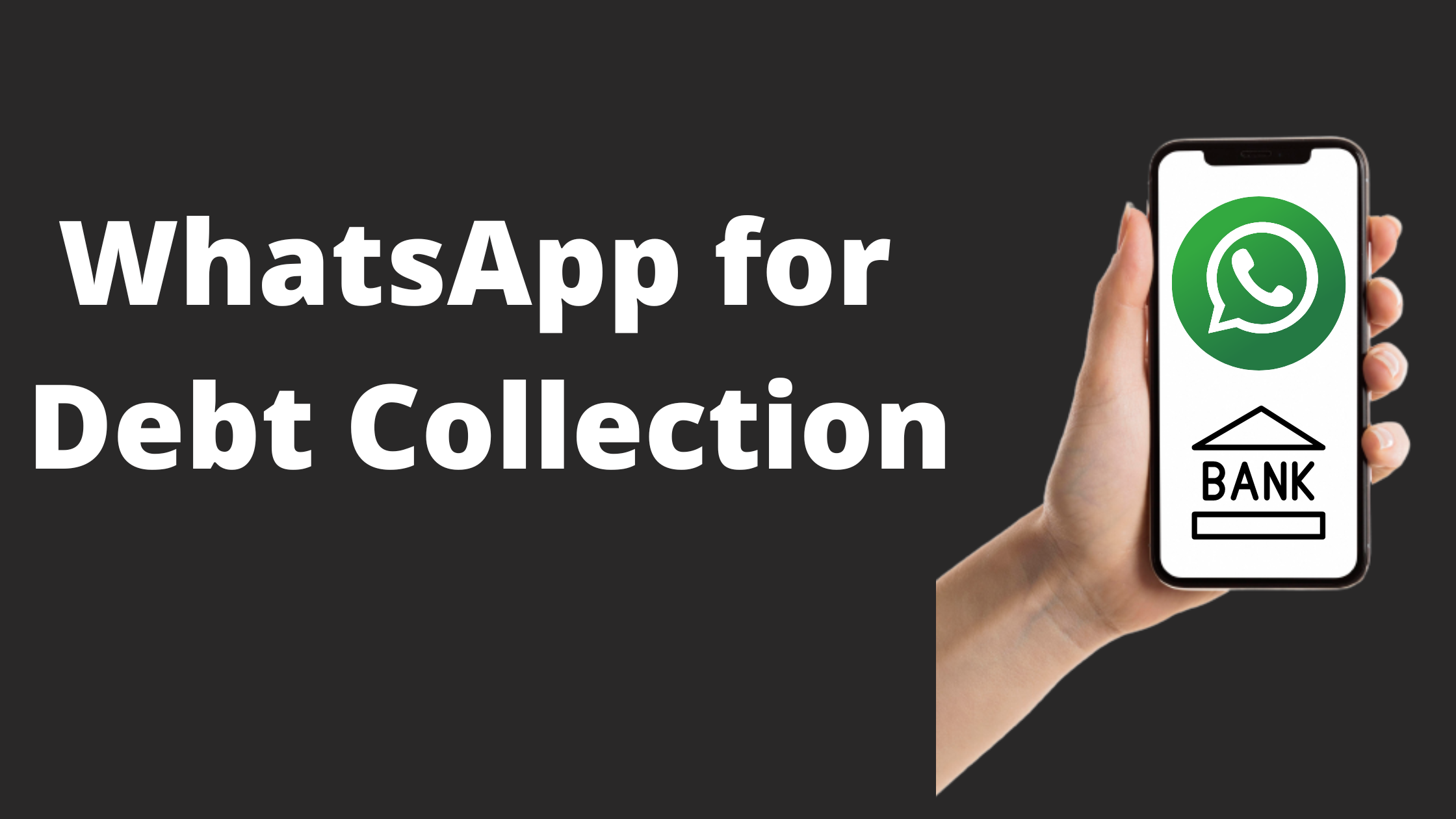 WhatsApp for Debt collection
Nearly half of all consumer complaints that affect a bank's rating are about debt collection. Debt collection is a tedious process with several regulatory and legal implications. It necessitates verification of the defaulter, the reason for non-payment, when the client may pay, and other factors. In addition, it isn't easy to have completely error-free communication with customers every day with manual processes. Hence, digital debt collection has been the top priority for lenders for the last 5 years, with email, SMS, and voice broadcasts helping lenders reduce agent costs and time.

The debt collection industry has struggled to provide a smooth customer experience; the one-size-fits-all technique, which relies on making several calls to customers, increases the overall cost and time in the whole process of debt collection.

Studies show that the average cost per demand on phones ranges from USD 5 to USD 12. In contrast, AI-powered virtual agents bring this cost down to 80%, i.e., USD 1.55 per interaction.

As per the survey conducted by McKinsey & Company, debt collection through traditional channels is slower, and delinquencies rise upto 30%. In contrast, through the preferred digital channels, debt collection rises by 12%. Customers today prefer digital channels and get the best results via email, text messaging, and pop-up notifications. Some tech-savvy lenders have introduced virtual assistants to offer anytime help to customers, e.g., FE credit has been using BankBuddy multilingual virtual assistant to service millions of customers since 2020.

With the advent of digital banking, customers can also be contacted via multiple digital channels, such as email, SMS, or WhatsApp. Furthermore, with the help of Intelligent Virtual assistants, when customers receive a message, they can choose to self-serve by making payments digitally on the same channel as WhatsApp. These factors enhance customer experience, which increases the chances of debt recoveries more instantly than the old approach.

AI has disrupted the process of debt collection. AI benefits businesses with advanced analytics, behavioural science, and machine learning (ML). Artificial intelligence developments can make this process easier, enable businesses to streamline their operations, and have a customer-centric focus. In addition, it allows companies to seamlessly automate their debt collection strategy and improve debt collection rates.

These interactions are augmented by timely broadcasts on channels like WhatsApp, Zalo, Viber, etc., to persuade debtors to fulfil their payment commitments.

The next generation collection strategy involves a synergistic fusion of outbound multilingual messaging (speech and text) on channels like WhatsApp with inbuilt bot functions to automatically answer queries on loan transactions, outstanding balance, promise-to-pay process automation & upload proof of payment.
Here are 5 ways to boost your collection on WhatsApp :
Attract loan customers on WhatsApp banking chatbot with extensive functions for frictionless transactions and customer service e.g

A. Loan contract status

B. Loan Payment history

C. Loan Payment schedule

D. Request for loan closure

E. Loan/card application status

F. Disbursement status

G. Refund status – Loans, Cards

H. Loan insurance status

I. Loan top-up application


Send bucket/risk-based personalised messages for collections with a clear call to action, e.g., a Digital promise to pay on WhatsApp.
Use voice snippets and a multilingual interface to expand the message's reach across literacy levels.
Move away from physical voice calls for routine reminders and low-risk customers.
Integrate calls to action and alerts to human agents for a seamless interface.
Customers can pay easily if QR codes are embedded in emails, which they can scan with their smartphone.
By using AI technology, banks can simplify their approach to debt collection. Banks can collect debt easier and faster and can resolve all collection disputes with the use of the AI-powered debt recovery solutions across multiple digital channels.